VCU Brandcenter Sprint Winner





Live client. four days.



As a doctor-developed full-body deodorant, Lumē is carving out its own section in the hygiene aisle. In 2021, Lumē was acquired by Harry's Inc. Each of Harry's Inc. brands are required to set aside 1% of all sales for nonprofit organizations that further the mission of the brand. What cause should Lumē rally behind?
Define a strategic platform for social impact at Lumē and demonstrate how it could come to life.
Inspired by Dr. Shannon Klingman
We were inspired by Lumē's founder/gynecologist Dr. Shannon Klingman. She created Lumē because she saw time and time again that women were misdiagnosed and overprescribed antibiotics for vaginal odor.
Misdiagnoses & misinformation in every stage of womanhood
Anatomy: 57% of women admitted they don't know as much about women's anatomy as they should.

Puberty: 44% of girls do not know what is happening to them the first time they have their period.

Pregnancy: 29% of women wish they know more about the stages of pregnancy.

Postpartum: 1 in 7 experience postpartum depression.

Menopause: 1.3 million women in the US enter menopause every year.
Women and minorities are 20-30% more likely to be misdiagnosed.
Going back to Lumē's roots it seemed natural that they should support women's health equity.
​
Lumē can bridge these knowledge gaps and health inequities and ultimately empower women to advocate for themselves in a medical setting.
when it comes to women's health…




there's never too much information (TMI).
The goal of the creative is to provide women's health knowledge (from menstruation to menopause) in a fun, casual, easy-to-understand way.
meet ms. Information -- Lume's social mission voice
No! Not MISinformation. The exact opposite, MS. Information. Here to flip misinformation on its head. Ms. Information is the cool aunt you could ask all your (not) embarrassing health questions to. She's spunky & smart. She's fabulous & frank. She's groovy & gutsy. Ms. Information has been through it. By "it," we mean womanhood. And she just wants to help women do the same with knowledge about their bodies she wishes she had. For women, it can be challenging to talk about your health concerns. Ms. Information is a persona that sparks educational health conversations with an entertaining flair. She will act as the voice of Lumē's new social mission.
Mythbusting one post at a time
Ms. Information would show up on social, myth-busting while making women's health knowledge more accessible.
Experience The LAdies' Room
Women can experience Lumē and their new social mission first hand at the Ladies' Room. A sacred space where women have been coming together for decades. The Ladies' Room is equal parts bar, doctor consultancy, and of course bathroom. This pop up experience would be located in major cities including New York, Chicago, DC, and Los Angeles.
The neverTMI microsite holds easy-to-understand health information for all stages of a woman's life.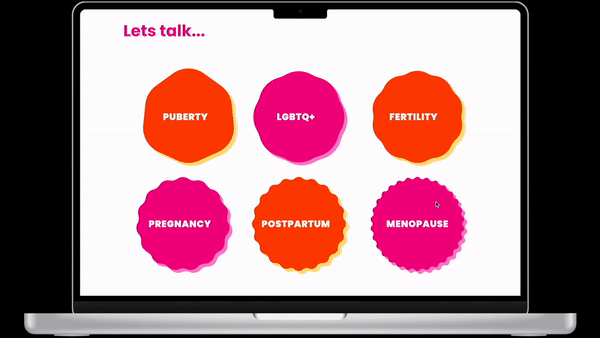 Donating 1% to where it matters
By providing women's health knowledge in multiple forms and donating 1% of their profits to these organizations, women everywhere can now feel empowered in a medical setting.
Selected as BC Sprint Winner
"So impressive how you were able to truly understand the brand in such a short time. We have some employees who've been with us for 6 months who don't understand it as well as you."
Client Relations
Research
Project Management
Creative Ideation
Strategy ​
Lucie Desvallees (CW)
Elizabeth Gatlin (XD)
Julie Musarra (AD)​